GinZing™ to Energize & Refresh Skin Set
Active ingredient
Coffee, Ginseng, Fruit-Derived AHA's
Recommended for
Normal, Dry, Oily
Best For
Boost Energy, Overnight Hydration & Peel
What It Is:
A round-the-clock set of our radiance- & energy-boosting bests.

What It Does:
Morning & night, this set works around the clock to perk up tired-looking complexions. Use coffee-infused GinZing™ favorites by day for revved up radiance & and now with 72-hour hydration, and Night-A-Mins™ sleeping peel overnight for a fresh, glowing start come morning.

Set Includes:

GinZing™ Oil-Free Energy-Boosting Gel Moisturizer 50 ml / 1.7 fl oz
An oil-free, energy-boosting gel moisturizer formulated to help wake up dull, tired & lackluster skin with 72-hour hydration.

GinZing™ Refreshing Scrub Cleanser 30 ml / 1 fl oz
Gently exfoliates with natural Jojoba beads to leave skin smoother & brighter with uplifting essential oils.

GinZing™ Refreshing Eye Cream to Brighten & Depuff 5 ml / .17 fl oz
A proprietary complex of Coffee, Ginseng & optic brighteners rapidly wakes up & refreshes tired-looking eyes.

High-Potency Night-A-Mins™ Resurfacing Cream with Fruit Derived- AHAs 15 ml / .5 fl oz
A 2-in-1, overnight moisturizer & peel with Fruit-Derived AHAs that puts dullness to rest for glowing skin that's smoothed & renewed.
GinZing™ Oil-Free Energy-Boosting Gel Moisturizer 50 ml / 1.7 fl oz
Following serum, apply liberally to skin day and night as a daily moisturizer, or as needed during the day as an instant skin refresher.

GinZing™ Refreshing Scrub Cleanser 30 ml / 1 fl oz
Gently massage into wet skin in circular motions. Avoid eye area. Rinse thoroughly. Gentle enough for daily use.

GinZing™ Refreshing Eye Cream to Brighten & Depuff 5 ml / .17 fl oz
Gently dab around eye area with fingertip in the A.M. or as needed.

High-Potency Night-A-Mins™ Resurfacing Cream with Fruit Derived- AHAs 15 ml / .5 fl oz
Apply nightly to face & neck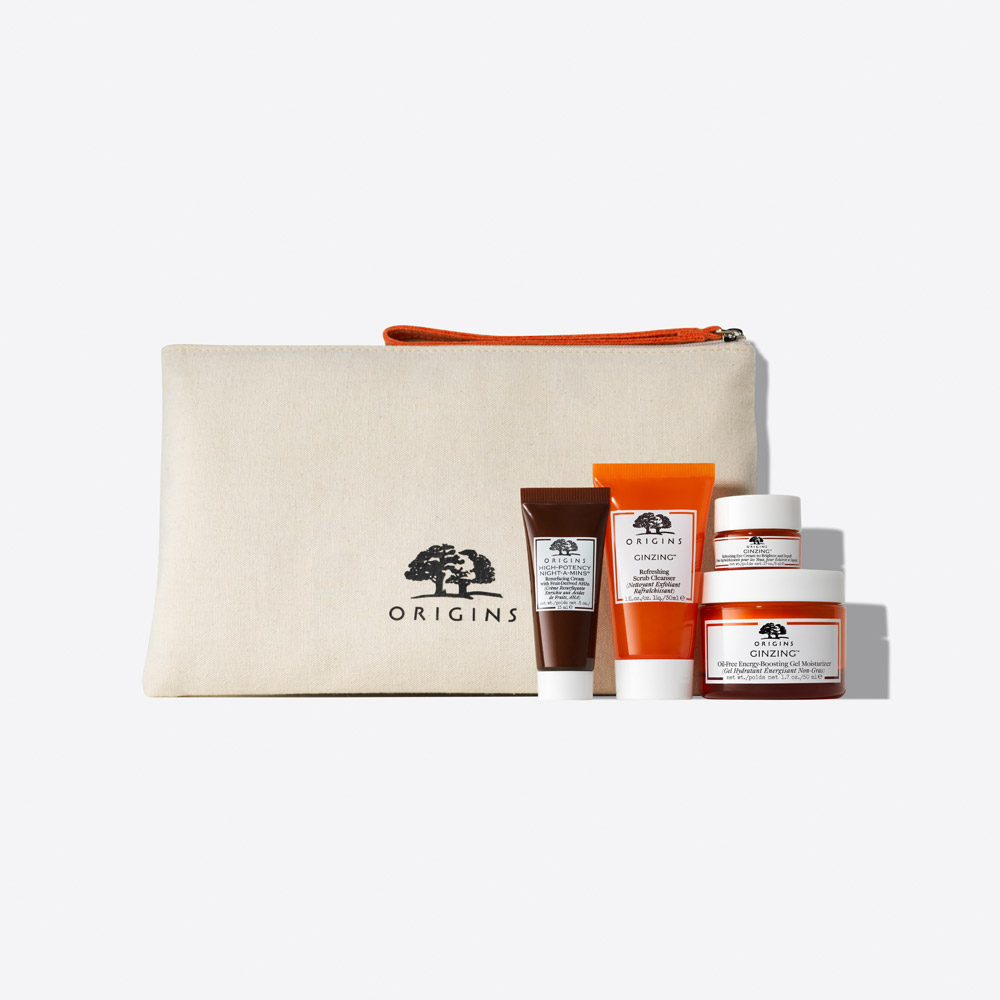 GinZing™ to Energize & Refresh Skin Set