Mask & Go Musts
Mask Favorites to Detox, Hydrate & Glow
Active ingredient
Reishi, Camphor, Willowherb, Charcoal, Avocado, Glacier Water
Recommended for
Normal, Dry, Oily, Combination
Best For
Visibly Reduce Redness; Absorb Oil; Perfect & Matify; Purify; 72-Hour Hydration
What It Is:
Five take-anywhere masking favorites to accompany you on-the-go—and during much-needed "me" time.

What It Does:
Our Reishi-infused mask reduces the look of redness; Camphor-infused mask soaks up oily shine; Willowherb-infused mask refines skin's texture; our #1 Charcoal Mask purifies and detoxes; and our Avocado-infused hydrating mask delivers instant & 72-hour hydration.

Set Includes:
Dr. Andrew Weil for Origins™ Mega-Mushroom Relief & Resilience Soothing Face Mask (.5 oz / 15 ml)
Out of Trouble™ 10 Minute Mask to Rescue Problem Skin (.5 oz / 15 ml)
Original Skin™ Retexturizing Mask with Rose Clay (.5 oz / 15 ml)
Clear Improvement™ Active Charcoal Mask to Clear Pores (.5 oz / 15 ml)
Drink Up™ Intensive Overnight Hydrating Mask with Avocado & Glacier Water (0.5 oz / 15 ml)

We Formulate Without:
Parabens, phthalates, sodium lauryl sulfate, propylene glycol, mineral oil, DEA, petrolatum, paraffin, polyethylene beads, formaldehyde & animal ingredients*
*except cruelty-free honey & beeswax
Dr. Andrew Weil for Origins™ Mega-Mushroom Relief & Resilience Soothing Face Mask
- Apply liberally to cleansed skin, as needed. Wait 10 minutes, then remove with tissue.

Out of Trouble™ 10 Minute Mask to Rescue Problem Skin
- Squeeze a generous amount into hands. Smooth onto clean skin, being careful to avoid eye area. Relax for 10 minutes. Rinse thoroughly and pat skin dry with a towel. Use 1-2 times per week, or as desired.

Original Skin™ Retexturizing Mask with Rose Clay
- Use 1-2 times per week. Apply mask to cleansed skin, avoiding eye area. Leave on for 10 minutes. Wet fingertips and massage face in circular motions to exfoliate. Rinse well and follow with serum and moisturizer.

Clear Improvement™ Active Charcoal Mask to Clear Pores
- On makeup-free skin, open pores with warm, moist towel and layer mask on. Allow to dry and rinse. Use once a week or as often as needed.

Drink Up™ Intensive Overnight Hydrating Mask with Avocado & Glacier Water
- Squeeze a small amount into hands and smooth onto clean skin at bedtime. Leave on overnight. Tissue off. Use 1-2 times per week, or as desired.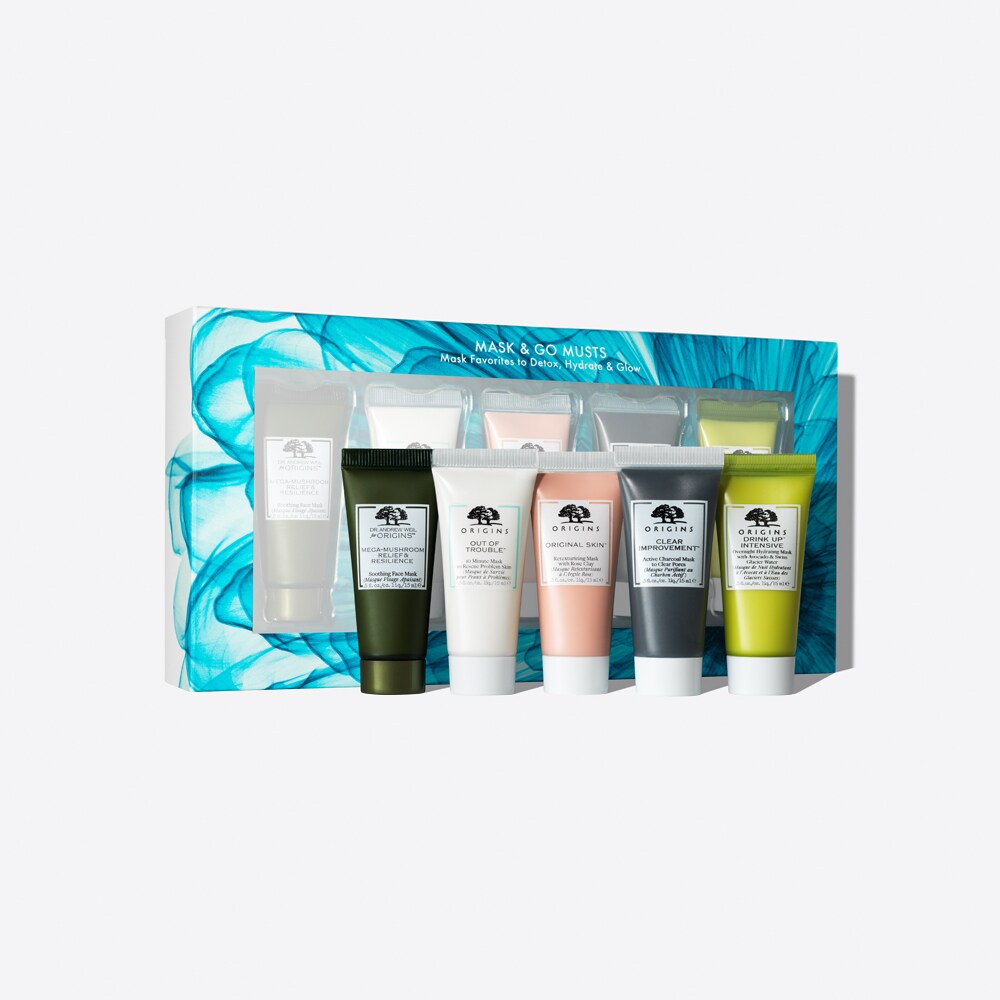 Mask & Go Musts
Mask Favorites to Detox, Hydrate & Glow