MEN IN MERRY
Essential Men's Regimen
Active ingredient
Charcoal, Ginseng, Caffeine From Coffee, Reishi & Fermented Chaga Mushroom, Plant-Derived Hyaluronic Acid
Recommended for
Normal, Oily, Combination
Best For
Detox & Purify, Gentle Cleanse, 72-Hour Hydration, Reduce Visible Redness
What It Is
The gift of great skin for the guy on your list, featuring four easy skincare essentials.

What It Does Our skincare set for men—featuring our #1 cleanser and treatment lotion in a limited edition look, plus best-selling detox mask and oil-free moisturizer—helps transform his skin from dry and tight to hydrated and comfortable. Travel bag included.

Set Includes
Checks and Balances™ Frothy Face Wash 50ml
Made with Broad Leaf Kelp Extract, Tourmaline and Mint, our #1 cleanser leaves skin comfortably clean, refreshed and balanced.
Clear Improvement™ Active Charcoal Mask to Clear Pores 30ml
Infused with Bamboo Charcoal, this mask helps draw out deep-dwelling pore-cloggers and environmental toxins for clear-looking skin that feels perfectly pure.
Dr. Andrew Weil for Origins™ Mega-Mushroom Relief & Resilience Soothing Treatment Lotion 100ml
This light, soothing watery lotion with Reishi Mushroom, Sea Buckthorn and Fermented Chaga preps just-cleansed skin for serum and moisturizer. Alcohol-free.
GinZing™ Oil-Free Energy-Boosting Gel Moisturizer 30ml
This lightweight, oil-free moisturizer delivers instant and 72-hour hydration. Revs up radiance for healthy, vibrant looking skin.
Travel Bag
Checks and Balances™ Frothy Face Wash 50ml
Squeeze small amount of face wash into palm, add tepid water to lather. Swirl over skin, steering clear of eyes. Rinse thoroughly.
Clear Improvement™ Active Charcoal Mask to Clear Pores 30ml
On makeup-free skin, open pores with warm, moist towel and layer mask on. Allow to dry and rinse. Use once a week or as often as needed.
Dr. Andrew Weil for Origins™ Mega-Mushroom Relief & Resilience Soothing Treatment Lotion 100ml
Gently shake bottle. Pour a small amount directly onto fingertips or cotton pad & press into skin.
GinZing™ Oil-Free Energy-Boosting Gel Moisturizer 30ml
Smooth a small amount over skin morning & night.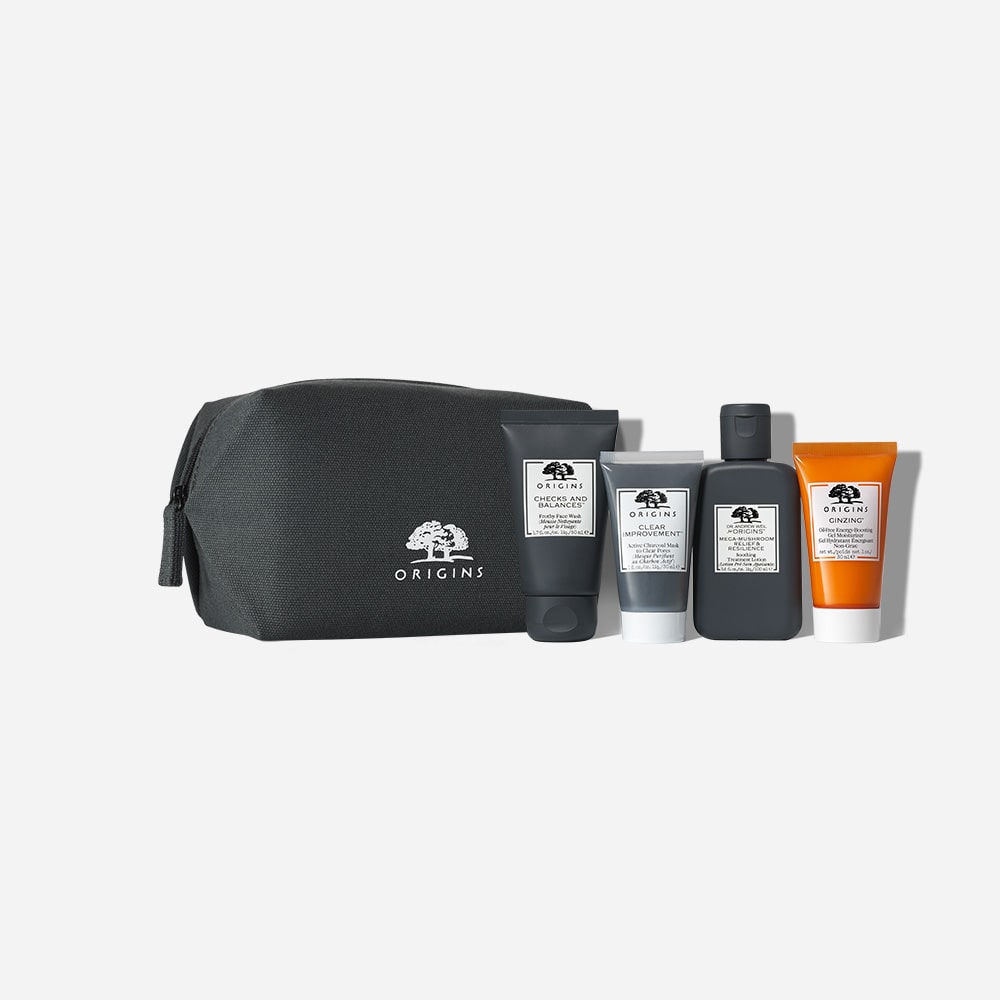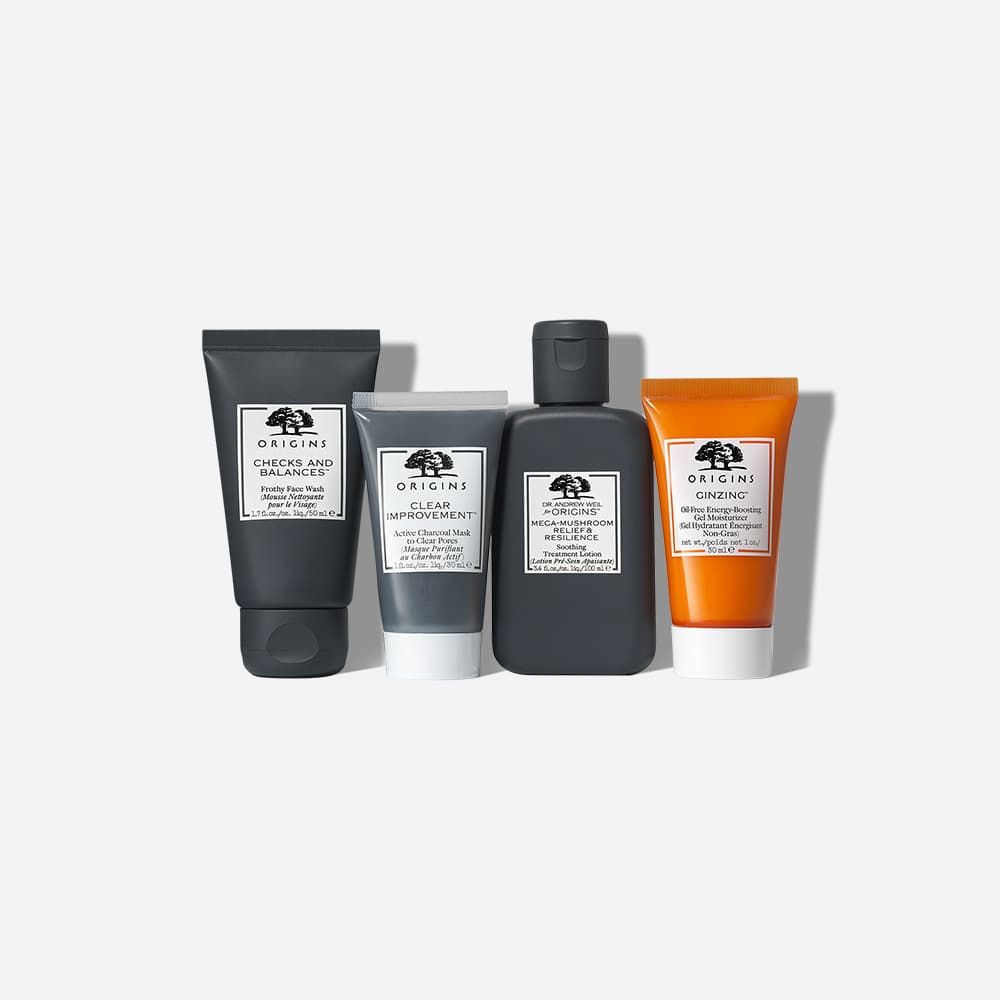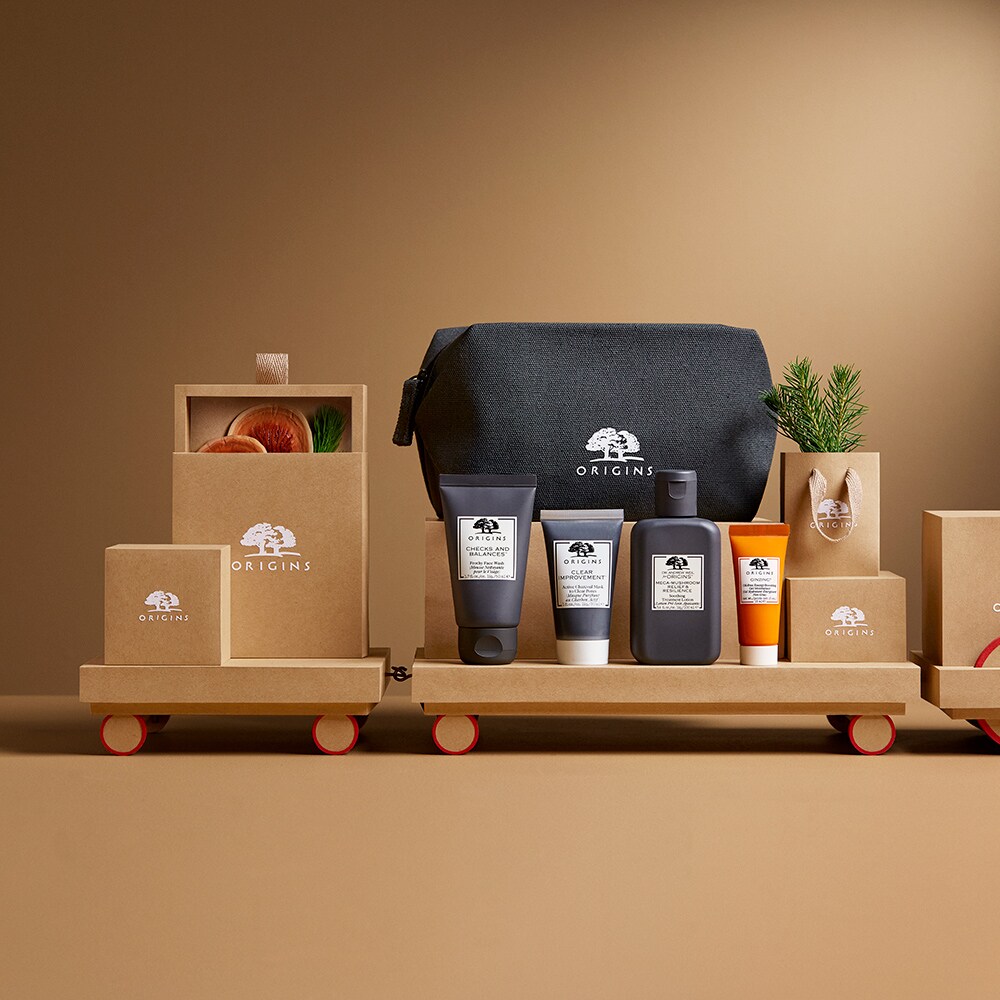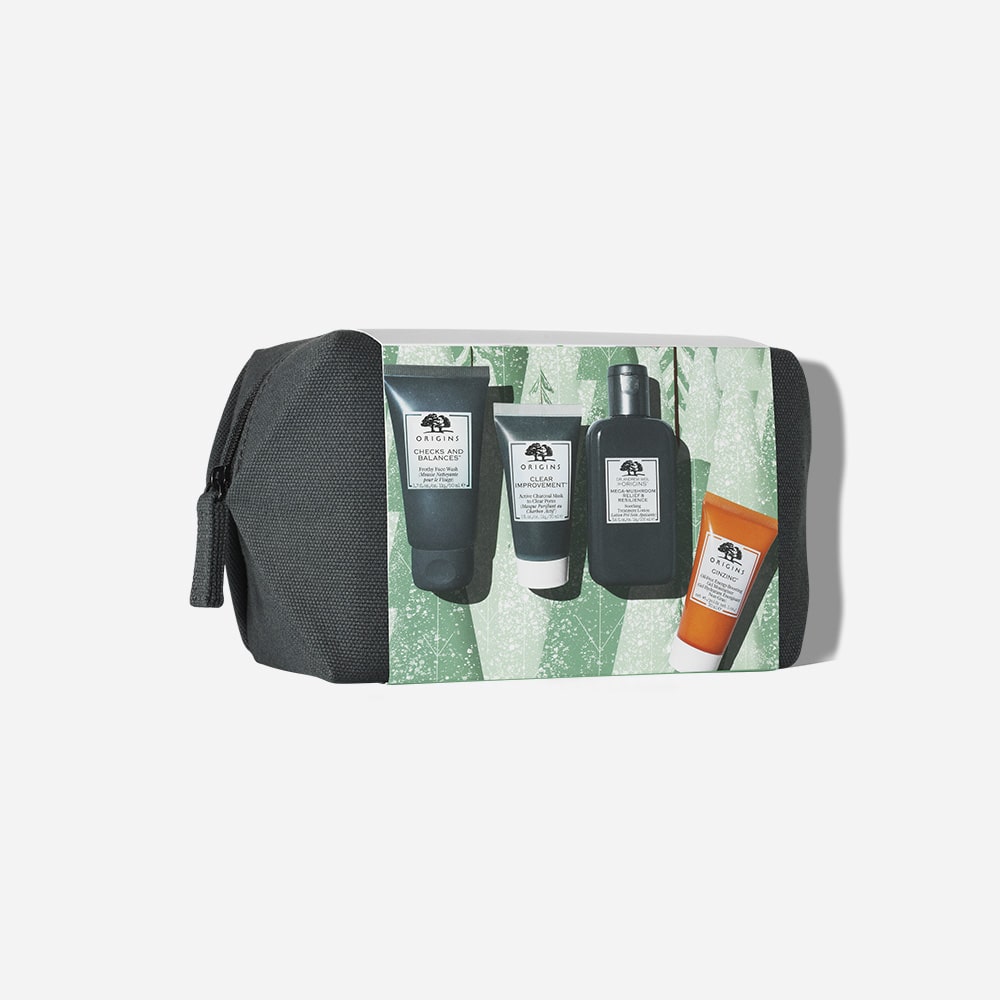 MEN IN MERRY
Essential Men's Regimen